A website for gastronomy is a necessity nowadays. However, you can only attract new guests with it if the seven most important components are in place.
Today, no restaurant owner can afford to do without their own homepage. After all, many hungry city visitors use their smartphones to look for a good restaurant or snack bar. As a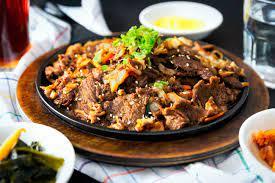 restaurateur, you should have an answer ready for such inquiries. With a website for gastronomy, you can lure local gourmets into your establishment just as much as long-established gourmets. Returning guests will be pleased if you always keep your online offer up to date, so that a visit to the website is always worthwhile. You don't even have to make a big effort for this, since a website for gastronomy doesn't need much content, a One Pager is usually sufficient. The most important thing is to pay attention to responsive web design, provide basic information and decorate the whole thing with appetizing photos. This will make new and old guests want to visit your restaurant for the first time or again and again. So take advantage of these seven tips and start acquiring customers online.
Appetizing photos are a must on your gastronomy website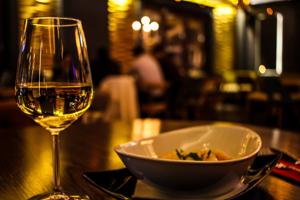 Guests come to your Restaurant mainly for the food, so deliciously presented menus that make the user want to try them out are absolutely essential on a website for gastronomy.
However, photographing food in an appetizing way is not that easy. If you can't do it yourself, you'd better hire a specialized food photographer, because the pictures of your culinary art are your best business card. If the website visitor's mouth doesn't water at the sight of your food, then you've done something wrong with the homepage design.
The second argument for your restaurant is the ambiance. So the photos of the premises must also look absolutely professional. This is the only way to put the flair of your restaurant in the right light. Literally, because the lighting has a great influence on the mood that a picture conveys.
Of course, when designing any restaurant website, you need to pay attention to the perfect interplay of functionality and creativity. The photos of the culinary offer and the ambience of the room are extremely important components of a website for gastronomy. Not only the professional impression of the pictures is important, but also the usability. So make sure that your photos have short loading times and are optimally displayed on mobile devices.
The menu as a signboard of the restaurant
In many restaurants, the menu is displayed outside the door, so that you know what to expect in terms of cuisine even before you enter the restaurant. And it should be the same on the website for gastronomy. The menu must be clickable in a prominent place so that hungry guests can get a glimpse of what's on offer.
However, please do not upload or display your menu as a PDF document on your restaurant website. The content will not be indexed by Google in this form and then cannot be found. So even if a user searches exactly for your special offer, he will not find your website. Moreover, on a smartphone, people usually don't bother downloading extensive PDFs if they want to find a good restaurant nearby as quickly as possible. So, the so important element menu should rather be available on the website for gastronomy as HTML page.
Besides the food offer and tempting photos, you should not forget to declare ingredients and additives. This is extremely important information for allergy sufferers or people with intolerance's. This group of people will be grateful to you for such information.
If you have special additional offers, for example for vegetarians, in addition to your normal dishes, then you should place these features prominently on your menu. So that guests who are looking for just such offers are immediately made aware of them. Even if you want to offer changing daily menus or especially affordable lunch menus, these highlights should immediately catch the eye when looking at the menu.
It is also a good idea to publish the menu in another language. English is the most international language. Otherwise, the second language can be used to reflect regional characteristics, for example, if you are located near the border.
Important information on the website for gastronomy
Prospective customers who visit your restaurant website may be on the go with their smartphone and want to eat something right now. So, your opening hours should be placed prominently on the home page so that potential guests can see if the restaurant is currently open. A button that says 'We are open' or 'We are open now' immediately catches the eye and provides information at a glance.
Next, smartphone users may want to check what payment options are available at your restaurant. This important basic information should not be missing from any restaurant website either, and must be easy to find. Once a guest has decided to visit your restaurant, they will be happy to see a Google Maps integration that shows them the way to you.
Website visitors who want to book in advance should be provided with a reservation option. And contact information must also be complete and easy to find. Make it as easy as possible for prospects on your website to make contact with you, in whatever way they choose. The more contact channels available, the better.
Nowadays, of course, a legally required privacy policy must not be missing from any website. An imprint (Impressum) is also required by law. Templates ensure legal certainty. Sample texts specifically for the catering industry, for example, are provided online on many websites.
Contact and communication with the guest
In order for website visitors to actually become guests, there should be contact options that simplify communication with the user. Address, telephone numbers and mail address are the basis of the fundamental contact data, but are by far not enough to fully exploit the advertising possibilities of the your restaurant website. Of course, a reasonably fast response must be ensured on all communication channels.
Potential guests who use the Internet to search for a suitable restaurant appreciate the possibility of online reservations. Providers such as OpenTable (not available in ALL countries) are available for this purpose. Here, restaurateurs can accept online reservations in real time and organize their guest management. For example, there is an online reservation book, a guest database and a rating portal.
Online-savvy restaurant visitors are also pleased to find a fan page of their favorite eatery on Facebook. The social media integration of their restaurant website is an important tool as part of a good online marketing concept. An integrated Like box should not be missing on the homepage so that their Facebook fans can see at any time who recently enjoyed the food in your restaurant. Social media are also an excellent way to get in touch with guests outside your own premises. You can use it to generate likes and motivate existing customers to recruit new guests with positive comments.
Cook well and talk about it
The most delicious dishes from your kitchen are not worth much if no guests come to the restaurant. So your excellent cuisine needs to get the word out. And if a guest likes it, then he should spread the good news online, if possible. They are more likely to do so if you give them the opportunity to do so directly on your catering website.
There are many review portals on the Internet; TripAdvisor, for example, specializes in gastronomic offerings. If a guest praises your food, feel free to ask them personally at the table for a review. On your homepage, you can integrate special codes that portals like Qype (now Yelp) make available. Satisfied guests are usually happy to leave a positive review, especially if you make it easy for your website visitors to leave such a comment in a suitable place.
Also register with the most important local portals in your Area. On the one hand, many users search there for gastronomic offers, and on the other hand, guests can also leave a rating there after having visited a restaurant.
A Restaurant Website must be locally oriented
Responsive design is indispensable, especially in the field of gastronomy. Current studies show that around 80 percent of smartphone users use their mobile device for local searches, among other things. So if you're out and about in the city on your smartphone and get hungry, you're very likely to search online for gastronomic offerings in your area. Therefore, pay attention to the mobile optimization of your restaurant website. This also increases the chance of being found on Google. Because their ranking takes into account, among other things, the responsive design of a website. If your page is found, the mobile-friendly design ensures that smartphone owners also take a closer look at your offer.
Suitable back-links also help to achieve a good ranking on Google. However, make sure that your back-links are regional and acquire them yourself from website operators in your area. Back-links that you generate via link farms tend to have a negative effect on your Google ranking.
Local SEO is the relevant keyword here, which website-operating restaurateurs should definitely know. Check at Mobile Friendly Test whether your gastronomy homepage is optimally suited for display on smartphones & Co. If not, you should improve it very quickly.
Conclusion
When creating a restaurant website, you should pay attention to some industry-specific aspects. Above all, the illustration of your homepage plays a special role for the potential guest. Professional photos give visitors an inviting impression of the ambience and wet their appetite for food and drink. More detailed information about the culinary offer is best provided on the menu in two languages. In this way, international tourists are also directly addressed. In addition to information on the culinary orientation of the restaurant, basic information on opening hours and payment options should also be clearly visible. The user must also be able to find all communication channels quickly and easily. A reservation option is particularly pleasing for online-savvy restaurant visitors. Such guests also like to visit the Facebook fan page of their favorite restaurant and leave a positive comment there. So the social media integration of your restaurant website should definitely be part of your online marketing strategy. Other online rating options should also be integrated into your advertising concept. Take a local approach and make sure that you address mobile users in particular in the best possible way.