Local SEO is playing an increasingly important role in search engine optimization. What exactly Local SEO is and why it will become increasingly important in the future is described in this article:
What is Local SEO?
Let's just say it in simple words:
Local SEO is a website optimization process to be viewed in local search results.
For example, if I'm looking for a restaurant in Protaras and just type in Google Search as " Restaurant ", Google will provide me with a list of different places in my area where I'm currently viewing.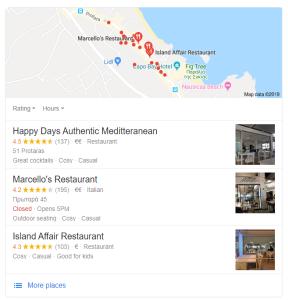 That's because Google as a search engine has a good idea of ​​where I am right now and assumes that I also want to find a nearby restaurant.
But I can also define another position. When I enter " Restaurants in London" for searches, the search engine will automatically bring restaurant suggestions for the English capital.
In both cases (regardless of traditional search results), Google will return results known as local results – listings, next to a Google Map entry, company address, phone number, and other information.
Note that in many cases these local overlays can take up a considerable amount of space on the page.
The goal of Local SEO is to position your website in this list of results, of course, depending on what you offer.
The question, "should any company work with local SEO"?
For example, some companies only sell digital products, but do so Worldwide.
Others have a nationwide business or often even abroad.
In these cases, the clear recommendation would be "No, not necessary!"
However, if your business has a physical location, or you have a relationship with your local customer, then you should invest in Local SEO.
How is Local SEO different from Global SEO?
Local SEO practices are very similar to those used in traditional, organic SEO that helps a company improve Rankings on Google.
But there are also some crucial differences.
In the organic SEO website, the actual website is the focal point of all efforts. In local SEO, the primary data for your listing comes from your Google My Business listing
Organic SEO focuses on the back links and focuses on increasing the so-called "page authority" (simply speaking: the importance of the website in the eyes of Google). Therefore, citations also play a big role in Google searches (I will discuss that later)
After all, success in local search results also depends on what your customers think about your business. Both the number (main factor) and the quality of the ratings (rather subordinate) are strong local search ranking factors.
The elements of the typical local SEO strategy
Before you start learning the ropes of local SEO, let's discuss what factors contribute to a successful local search strategy.
There are at least five main elements of a local SEO campaign.
Website
Even though the majority of local customers start their customer journey with a search engine, they visit a company website further.
In 2013, the Nielsen Group discovered that nearly 60% of mobile users visiting a local business visited a local website. And those who made a purchase visited the site up to 6 times before buying.
Your website should therefore have a good relevance to the user's search and should appeal to a local audience.
This is the first step in any local SEO campaign.
Local content
Good content for your website is what is relevant and attractive to a local customer.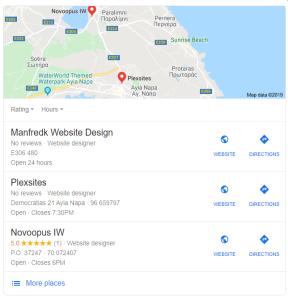 You should therefore make sure that they could ask the most frequently asked questions your local audience answers:
Who are you?
What are you doing?
Why are you doing that?
Where are you?
etc.
Google My Business
Google My Business is a platform that allows companies to manage their company information in search results, maps, and Google+.
As the search engine states , Google My Business complements your existing website by giving your business a public identity and presence on Google.
With Google My Business, you can specify information, appear in search results, upload videos and photos, and even manage customer reviews.
Therefore, an essential part of a local campaign is putting a Google My Business account, claiming to create the location of your business and a business' profile.
Citations
Citations are one of the main local search ranking factors Google uses to determine where your website ranked.
You can compare them with the backlinks in an organic SEO.
A citation is a mention of your company name, address, and telephone number (NAP) on the Internet. Note that unlike a backlink, a citation does not need to contain a link to your website.
And just like link building, creating citations is an ongoing process.
customer reviews
In addition to citing, customer reviews about your business are the next most important ranking factor.
Both the quality and quantity of reviews on Google My Business and other review sites will definitely impact your rankings in your area.
Therefore, as an important part of your strategy, finding ways to get customer reviews will be. We will introduce some strategies to you in one of our posts below, and you'll be amazed how many easy ways to do that.