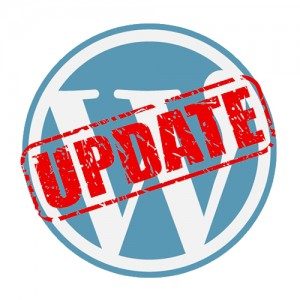 If your Website is build on the WordPress CMS Platform you have made a good Choice. It is one of the best Content Management Systems around. WordPress is constantly being updated though and sometimes it is hard to stay on top of WP, Plugin and Theme Updates. For non-techy people this can be a big headache. I have a WordPress Update Service. As the name suggests, this WordPress update service helps to upgrade your WordPress software, plugins, themes(if available) to the latest versions. You could always update WordPress by using the one click upgrade but it causes issues with certain wordpress site configurations and with certain hosting companies depending on your or their setup. I prefer manual Upgrades to the latest versions.
Here are some reasons WHY you should update to the latest WordPress version:
Security fixes: WordPress keeps rolling out beta updates and usually WordPress users ignores these – thinking they are just some small updates. These security patches or updates are very important and critical for your website.
Bug fixes: Another reason to update is because of bug fixes. In each case, you should read the release notes and check which bugs have been fixed.
Plugin compatibility: Over time, plugins keep getting updated to meet the current WordPress version. If you are using an old version of WordPress, it's time for you to update it to meet the plugin compatibility and to use the new features of plugins.
WordPress Update service:
I ensure optimal uptime when I perform a WordPress upgrade. In certain cases, when updating from very old versions to WP5 (or whatever the latest version is), it takes a bit longer, as not only WP gets updated but plugins and themes as well. I take a complete backup of database and essential files before making any changes. This is to make sure that the site can be restored in case of any technical issues. If you are looking for an online WordPress update service to upgrade your website / blog to the latest version and keep it up to date, you can use
this contact form
to inquire about my service fees.
Ideal for small websites that are rarely updated.
Ideal for small and medium-sized websites with regular updates or requests.
Ideal for larger websites with regular requests or content changes.