Image Optimization is an important part of the overall Website Loading Speed.
Single Images or Images used in a Gallery should be resized and/or optimized to facilitate fast loading.
For example sometimes Images are uploaded in the original Size of (for example 2000x3000px) but displayed only as 300x200px, as the Website resizes the Image automatically.
If you know that the Image will display as 300x200px, why not resize it offline and then upload it to the Website?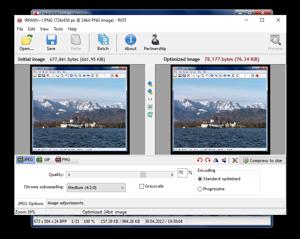 To optimize further I use  a free program called IRFANVIEW, but there are many others available online.
With IRFANVIEW you can optimize single Images or use the Batch Facility to optimize a whole Range of Images in one go.It lets you RESIZE, RENAME and/or Change File Extension.
Another free Program is John's Image Converter, an excellent program which allows you to resize complete Folder (and Sub-Folder) Images.
Select an Image Folder (incl. Sub-Folders) on your Computer, select a Destination Folder for your Optimized Images, set your Optimization Requirements and off you go.
Do you need help optimizing your existing Website Images? Contact me for a No Obligation Work Quote.