Your real estate business might already exist on Google without you having added it, though probably not.
GMB is important even if you don't use the Google Suite of small business tools like Google Drive or a professional Gmail.
You also need your own. Your brokerage may have their own Google My Business page, but it links to their website and their contact information. If you are an agent with a website, you want your own business registered with Google My Business.
The information in Google My Business is all about your business and its physical location. You have to have a physical location to have a GMB account. And the information is all about your business at that location.
Why is it so important?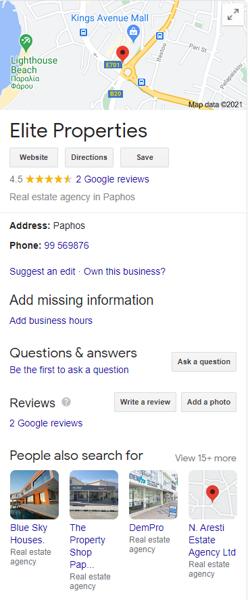 When customers search your business in Google, you will often see a business profile like this one for Cypruseliteproperties in Paphos.
Sometimes these will exist even if you haven't claimed your business yet!
It is extremely important to keep this information updated. Because the content can come from people other than you, you must keep tabs to ensure the reviews and Q&As reflect positively on your business.
Claiming your real estate business is also good for SEO (search engine optimization). Google likes companies that have claimed their business profile in its directory.
You'll want to use it for other features like:
Google reviews
Operating hours
Business information like address and phone lookup
Business FAQ
Having a complete profile makes you easier to find, contact, and generate real estate leads!
Verify Your Business
Head on over to Google Business!
Login and Add all required Information.
You've already done the most important thing when you created OR claimed a Google My Business listing.
Be sure to complete your business details. The information you feed Google will populate when buyers and sellers search your business.
It's important to be consistent with your NAP (NAP Consistency refers to the accuracy of a location-based business's Name, Address, and Phone number across all business listings, local directories, social media profiles, and websites. It is widely considered a search ranking factor for local SEO. Don't forget about your homepage URL as well as this is the most important element to keep consistent.) to maximize your local real estate marketing in the SERPs:
Name
Address
Phone
Use the same name, address, and phone number on all your accounts. Facebook, Google, LinkedIn, and other business directories.
To get the most out of it, consider the following items: Google Posts, Q&A, Reviews, and Media.
Google Posts
Click "POSTS" on the left menu, and then click in the "Write your post" text area. Then you are ready to create!
There are "offer", "event", and "what's new" post categories.
Real estate examples of how to use this feature would be advertising show houses in the events post type, or posting recent real estate news.
Generally, posts are designed for short-term initiatives. In fact, they will go away after 7 days unless it is an event based post, in which case it will last until the event is complete. You will want to consistently add more posts to keep it fresh.
Ultimately, while it is probably a good idea to use Google Posts, I wouldn't spend too much time on it. Check out more information at Search Engine Land about Google Posts and stay up to date on best practices for them.
As a real estate agent, you might not get a lot of questions. But that is okay because you can make your own!
Read all about using this feature from Search Engine Land. Moz is an expert at local SEO as well and a great resource for all things local SEO, including the Google Q&A.
Google Reviews
Reviews on Google are incredibly important, and perhaps the second most important feature to your Google My Business account.
Where should clients review you? Facebook? Zillow? Yelp?
I say Google. Send them to Google.
Google does use reviews in their ranking, and it is good for SEO to have folks regularly, consistently leaving reviews for you on Google. If SEO is a significant component of your website strategy, you want to focus on getting your reviews on Google.
Add Photos and Video
You can add photos and video to your Google My Business knowledge panel that will appear when folks search your business. Other folks can add photos themselves, as you've probably often seen of restaurant listing and folks adding pictures of their food.
Adding some photos of yourself, your brand, and your business location is a good idea.
The important thing is that this is all about locations. You have to have a physical address, and your content has to be about your local area and office.
What is Local SEO?
GMB is a critical component of local SEO.
Local SEO is extremely important for real estate agents because it is one domain on the Internet that the big guys like Zillow and Realtor.com can't compete with you.
Optimizing your website to appear for local results like this is called "Local SEO". Separate from general SEO, it includes optimizing for the local maps pack and submitting your site to other business directories.
Read up at Search Engine Land for more about Local SEO, the most important SEO for real estate agents.
What Other Business Directories Should You Be In?
Google My Business is just one business directory of 100s if not 1000s online. It is the most important directory, by far! But you also want to start adding your local business to other directories.
Being in local directories is a ranking factor and can drive traffic by itself (though not likely a significant amount of traffic).
Examples of other business directories include:
YellowPages.com
Yelp
Alignable
Bing
Super Pages
MapQuest
Local.com
+1000s more
What is critical with online directories is that your "NAP" (name, address, phone) be consistent in all the business directories.
It is a lot of work to add your business to all the directories, also called "citation building". There are paid services that will do it for you.
Local directories are also important, like your local newspaper's business directory. These local directories are often the most important because it reinforces to the search engines the market area that you should be showing up in.
Many directories are free, though they will often try to sell you the opportunity to advertise with them.
Conclusion
Google My Business is a real estate agent's best friend because it is all about local search results, and often for people searching for Realtors with high commercial intent! You are not competing with Zillow and the Big Boys in the organic search results. It's just you versus the other offices and agents in your community.
If you have a website, optimizing your online presence on Google My Business is a foundational element to set yourself up for success.