What is domain privacy and do I really need it?
One thing a lot of webmasters commonly want to know is whether or not they need domain privacy protection for their website. A lot popular registrars/hosts like GoDaddy, NameCheap, Network Solutions, Hostgator, 1and1, etc. offer this service for a monthly or yearly fee. Typically, it can cost you anywhere from € 5.00 to € 10.00 per year. In this article, I am going to explain what domain privacy protection is and show you the pros and cons of using it. Then, it's up to you to decide if you want it or not.
Pros
Minimize spam.
Protects your personal information.
Prevents unsolicited marketing outreach.
Protection against domain name hijacking.
Cons
An extra yearly expense.
What Is Domain Privacy Protection
So, if you are completely new to owning and running a website or you know you need Privacy Protection you have probably seen the word privacy protection offered. When you go to DomainTools and Whois.net, you can check to see who owns the domain name. You can see where it's registered and with what company it's registered. Shows your personal home address (or registered address), phone number, email address, etc. Is an online database that anyone and everyone can view publicly.
Protection vs. No Protection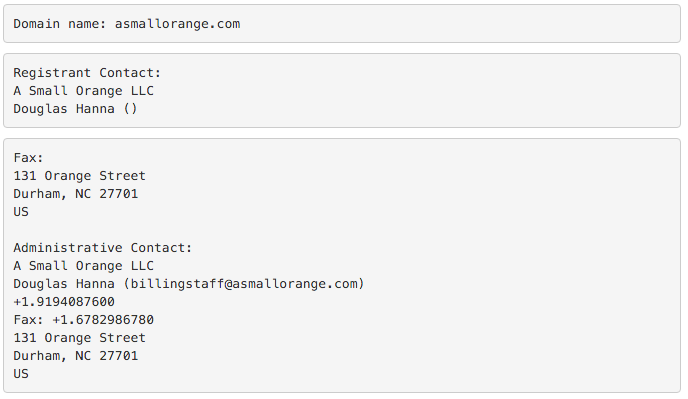 Above is what it looks like if you have no protection. As you can clearly see, this shows all of your personal information. Can leave you wide open for spam, unsolicited marketing contacts, and even allow your domain name to get hijacked.


Above is what it looks like when you have protection. You can see that your domain name, address, email, phone number, etc. is all hidden behind a proxy. Typically, the words "Domains by Proxy, Inc" are the owner, which isn't your real information. Makes it a lot harder for people to reach out to you by looking through your information. You are paying to mask your identity.
Below are a couple of options that I have seen other webmasters use to get around using privacy protection.
Provide A Fake Address
So could you just give them a fake address? No, there are strict guidelines set by ICANN which could shut your website down if you choose to provide a fake address. Is a direct violation of ICANN's TOS, and it's not a path I recommend going down.
P.O. Box Address
What about setting up a P.O. box and registering that address. Is a costly move because of a P.O. box will usually cost you € 14.00 for three months (depending on your location). Would make your P.O. Box cost nearly € 60.00 per year.
My Advice On Domain Privacy Protection
If you're working on a very tight budget, I would recommend not signing up for privacy protection until you start generating more income when you can later afford it. You could end up getting spammed by unethical marketing companies but just keep in mind that you don't have to respond to any offer (calls or emails) that you don't want to answer. Instead, you can block their telephone number or email address. Additionally, you can provide them with an email account that you don't check that much; therefore you don't see all the spam.
However, if you have the money I would recommend signing up for privacy protection. As I mentioned above, it's usually going to cost € 5.00 to € 10.00 a year depending on what registrar you use. Will typically be a small business expense that will save you lots of time dealing with unsolicited spam.
If you need Privacy Protection enabled for YOUR Domain Name or Website please contact me.Setup Fee is € 10.00 per Year.