Lets imagine you're a hotel or restaurant owner and your hotel or restaurant has got very good ratings on TripAdvisor.  You might think "We're flying here – how can we use this to our advantage?"
You have probably seen some of their widgets on various Websites either with Reviews or Accolades about that particular establishment.  These Widgets are bits of code that you integrate into your hotel website to show off your TripAdvisor Reviews or Accolades etc.
Great!  But hang on a minute – you rarely get something for nothing in this world, and TripAdvisor knows a thing or two about marketing (especially themselves).  So what is the catch here?
First issue is, TripAdvisor widgets include a whole bunch of text links to TripAdvisor.
How does this help TripAdvisor or harm you?
Because it provides them with inbound keyword links using your hotel or restaurant name, increasing the chances that TripAdvisor will rank highly for search results for your establishment.  You can test or see this easily by entering your own Restaurant Name into Google Search. Chances are the TripAdvisor Listing about your Place come even BEFORE your own Restaurant or Hotel Listing.
So by using a TripAdvisor widget on your site you're boosting TripAdvisor in the search engines, and possibly harming your own site's rankings.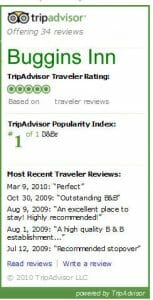 Second issue is, once someone leaves your site through that link, they will see listings of TripAdvisor ads pushing your competitors.  By sending them to your TripAdvisor page, you might easily lose a booking.
The third issue applies to the widget that shows snippets of actual reviews.
Not only does this one give TripAdvisor link juice, but it also displays content over which you have no control.
If you have a great listing on TripAdvisor and want to use it to your advantage, think hard before using a widget.  You might decide to go ahead anyway, but it's best to be aware of what the widget is REALLY for – to promote TripAdvisor.
Be creative – there are ways of capitalizing on a high TA ranking without shooting yourself in the foot.
The easiest and safest way is to just copy your Reviews FROM the TripAdvisor Site and add them manually to your own Website. I admin this is not as convenient as their Widget but you will show your good Reviews, you have total control over the content you display AND potential Customers will not leave your Site.
I admit I have placed TripAdvisor Widgets myself on a number of Customer Websites, because they asked for it and of course each can do or choose as they please.
If you need help placing your Reviews manually on your Website please leave a message or if you would like to comment please do so below.