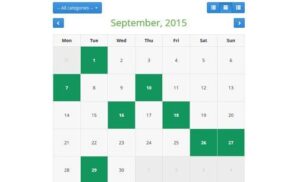 Are you worried about Privacy Issues relating to Google Calendar? If you do NOT want Google to know all about your upcoming Events, Holidays etc etc you can look at a couple of free, open source alternatives to Google Calendar (such as this one for example).
You can create different kinds of Events such as:
Concerts, Shows, Flights, Seminars and so on.
This is a Demo of the free PHP Event Calendar Scripts. Can be customized for your Needs. If you need help installing it on your Website please send me a Note.
Display events on your website with this jazzy and easy-to-use event calendar script. PHP Event Calendar is a great event management plug-in for any website. Our web calendar supports recurring events, five calendar layouts and multiple views. The calendar script can be used by users who are unfamiliar with PHP coding, as well as by webmasters for their clients' websites.
Product Highlights
Manage your event schedule more easily and share events with your target audience using our smart PHP Event Calendar.
It blends flawlessly with all kinds of websites and designs thanks to the rich color palette available for the calendar layouts.
10 Calendar Themes
From the back-end system you can choose between ten color themes to change the web calendar front-end design.
Language
A language module allows you to edit all system messages,
back- and front-end titles of the PHP Event Calendar.
Event Location
Quickly pin the event location on Google Maps. Just enter
the address in the Location field on the create event page.
Different User Roles
Each user (administrator, editor) has their own login details and different access to the admin panel as assigned by the script admin.
Recurring Events
With our event calendar software you can create and manage recurring events – daily, weekly, monthly, quarterly, yearly.
Easy Integration
Simply copy/paste a few lines of JavaScript code on your
website pages to embed the PHP calendar script.
Multiple Views
Three front-end views are available: calendar view, list view and monthly view. Manage your default view from the back-end.
PHP Source Code
With a Developer License you can customize the PHP calendar
script as you wish. We can also make modifications upon request.