Looking for a nightclub WordPress theme to shine a light on your nightclub? These amazing WordPress themes will get you covered on a budget.
Creating your own nightclub website
Unlike many other platforms, WordPress offers consistent quality without draining your wallet. Their site setup process is quite intuitive, and you will not experience any trouble. This ease of use and access is great, as it eliminates the need to hire a professional web development company. You are basically mitigating costs, as you will only need to spend a few euros on a theme. These WordPress themes are basically feature-filled skins, that allow not only for customization but also for a variety of useful attributes such as cross-platform compatibility, high-resolution icon display, online store creation and so on.
Everything that is required to create a top-notch web page is found on WordPress, and it comes with the added advantage of a massive user base. The community is vast, so just by being on this platform you are increasing your exposure, and lessening your odds of failure. Time is also a factor, and WordPress demands as little as possible. The process itself will take only a few minutes, but nobody can estimate how long it will take you to pick from the awesome features.
Please note that some of these Themes are commercial, meaning that they have to be bought (apart from the usual Website Design Fee.)I recommend the Themes below but if you would like a FREE Theme you can view some here.
That being said, let's take a look at some awesome night club WordPress themes for 2020.

Rockon is a minimal and clean WordPress nightclub theme with a beautiful design. The developers have integrated a fully animated Revolution Slider. Be it mobile or tablet, Rockon will work without any compatibility issues, guaranteeing a reliable experience for every user. It really has a modern feel, designed for those that enjoy dancing, parties, discos, bands, nightlife, jockeys and more.
However, do not let this versatility fool you into thinking that Rockon cannot work on other platforms. The tools and features that in includes have a wide array of applications, suitable for almost any site, regardless of its niche. It is currently at its 1.1 version, and with the latest patch, the Light Version is also available. When you decide to buy this theme, you are not just purchasing a stale, linear product. It is very dynamic, constantly changing and receiving updates from the developers.
As issues and bugs arise, the developers guarantee that they will squash them.A reasonably priced theme, and the Slider Revolution Plugin and WPBakery Page Builder is free of charge, despite their high price tag.

Vibra unlocks a broad horizon of features for you to create the ideal nightclub website for your place. There are multiple demos to choose from, all original, creative and one-of-a-kind. And if you would like to increase the hype, do it with the coming soon page which Vibra also has part of the bundle. As music and events-first theme, you can also create playlists and embed your favorite tunes from 3rd-party platforms, like Google Play, Deezer, Bandcamp and Spotify.
What's more, Vibra has a ton of ready-made shortcodes which you can mix and match with predefined page designs and sections. That's not all. You can also enrich the existing sample material with your distinct style and make Vibra your own. To sum up, Vibra is a magnificent tool for spreading the word out for your nightclub and invite more folks to attend your events.

Dugem gives your nightclub a fresh and modern look that will help you take your business to an entirely new level. It is a WordPress nightclub theme with beautiful modern web design, instantly adjusting to all types of devices, from smartphones and up to desktop computers. With Dugem, you have complete control over your online appearance, able to run it seamlessly at all times. You can customize the layout or even use it as is if it fits your needs and regulations already.
Custom header and footer options, countdown timer, more than ten add-on blocks, different post formats support and unlimited colors, all this and a ton more await you when you decide to go with Dugem. Make sure your nightclub is always full with a compelling and persuasive website and enjoy the flow.

Acidum is a versatile WordPress nightclub theme which you can use for a wide variety of purposes. From the mentioned, nightclubs, to music events, DJ websites and even radio stations, Acidum suits multiples users without hassle. And if you would like to go against the grain and do your thing, you can do that, too, by employing the powerful features of Acidum. Customize the existing web design and spice things up with your originality and personalization.
The Acidum experience begins with the three pre-built demos. You can change the color easily and even rearrange the positioning of the current elements thanks to the handy and user-friendly WPBakery Page Builder. Acidum also follows all the modern standards, like mobile-readiness, cross-browser compatibility and search engine optimization. Have a lot of fun during developing a nightclub website and succeed.
Vocal is perfect for cinema and music planning, and advertising your nightclub and events. Regardless of what genre of music you prefer, rest assured that Vocal will create an awesome website that can do it justice.
It is compatible with mobile platforms and fully responsive, while including 6 preset color schemes. Take full advantage of the and craft your ideal page. The greatest advantage of this theme is that it eliminates all barriers that were hindering your creativity before. Everything that you will ever need is here, the only limit is your imagination.
If you anticipate many views, you might want to consider opening your own online store, where you can freely distribute merchandise. Vocal includes the reliable WooCommerce plugin, which creates a stable environment for online commerce. Ticket sale will be easier by this innovation. In addition, your site will also support Vimeo and YouTube. Depending on the circumstance, you might want to present your page in multiple languages. Thankfully, Vocal is WPMP ready, allowing for multilingual support. This is the potential to expand your target demographic and facilitate their understanding.
Clubix is a great theme for WordPress that seeks to accommodate the needs of the more outgoing demographics. Be it websites for music, nightlife or clubs, Clubix can help you out! Guaranteeing the satisfaction of both the visitors, and the owner of the site. This theme is now at its 2.0 version, and it has way more features than its predecessor. A total of 25 new features, improving something that was very impressive to begin with. In order to experience these changes, you may visit the site and access Clubix's custom demos.
Every theme setting are manipulable with ease, thanks to the user-friendly Redux Framework. In addition, every aspect of your page will be translatable, as it will be compatible with WPML. Most of your loyal customers will appreciate the opportunity to read a page in their native tongue. As an owner, it grants you the ability to expand, and to reach more people with your content and updates. Localization support is a nifty addition, as Clubix has incorporated .po and .mo files.
The WooCommerce plugin is included in the package, and it lets you create an online store for various products. WooCommerce pages and sidebars will have their own special design. Personalized Contact forms are easy to create, due to the inclusion of the Contact Form 7 plugin. This theme has no browser compatibility issue, and it is able to display your site on mobile devices as well as on desktop computers. This increases traffic, as people can check for updates while on the go.

If your goal is to promote your nightclub, be sure to check out StereoClub. This WordPress theme offers a versatile toolkit of features, and a jaw-dropping design that will never go out of style. StereoClub is being used by more than 700 professional designers, developers, and web design companies. If you are a novice user, the product will be configured and installed for you. No need to get your hands dirty, so just enjoy the creative aspects of website ownership. Users will benefit from 13 personalized widgets, full CSS3, a streamlined theme code, and the option to implement custom site backgrounds. Microformats are available, along with threaded comments and a powerful Drop-Down Menu.
It is possible to upload your own custom logo and personalized Header Images. With StereoClub, resizing errors are completely eliminated.  Your content is compatible with any device, including tablets and smartphones. In addition, the theme will work with any internet browser. StereoClub is Gravatar-ready, and it can incorporate HTML and PSD files. A theme documentation source was made available, for clients who wish to learn more about their site's features. It is very informative, and easy to understand.
Owning or managing a Nightclub is a demanding, yet rewarding venture. You have to juggle with a hundred tasks at once, in order for your venue to succeed. However, when it comes to club promotion, themes such as FWRD can be your best friend. This innovative WordPress product is packed with useful features, and a design that could impress even the most cynical patron. Music and dancing know no boundaries, and neither should your site. FWRD is compatible with the WPML-plugin, allowing you to create a multilingual page. Foreign patrons will certainly appreciate this format.
If you have a highlight video of your amazing events, you can now include it as a site background. In addition, FWRD has features for album and audio players. They can be added on any page via custom widgets. Feel free to upload MP3s and teasers, organize playlists, or include lyrics. You do not have to be a professional programmer in order to use this theme, given that it has included the plugin. Thanks to Drag and Drop technology, even a child can create a successful nightclub page.  The layouts and templates can be modified and personalized at any time. Of course, you site will be cross-browser compatible and responsive.

Kallyas is a multipurpose WordPress theme with an emphasis on visual effects. It has 30+ homepages and demos within reach of one-click. (And still builds custom variations for endless homepages. It uses more than 6 sliders that let show awesome photos for hours. Kallyas is meant to make photographers and freelancers happy. You will not believe the extent of its image quality! It is pixel perfect, retina ready and 100% responsive. Kallyas provides 100+ equipped elements to accompany the page builder and panel framework.
Colors, headers and posts grids are customizable as layouts are unlimited. Kallyas uses a potent Smart Loader and SEO enhancer. It will run fast, as the rhythm of your nights! Set up events for a club with the featured calendar! It can be adapted to the nightclub scene with only a few tweaks. Show around the success one of your parties can have! Kallyas can handle HTML5 and CSS3 animations too. It is also along with many high-quality features, WPML, and WooCommerce compatible. You get a system that allows you to show all your potential. To sell, to write, to post, to spread news and more! Portfolio and blog pages are available too! Go on and start the party with Kallyas!

If you thought that playing Poker was a gamble, try managing a club. Venues can be notoriously short-lived, as club-goers will always prefer novelty and excitement. When it comes to the fight for relevance, perception is key.  The first impression of most patrons will be based off your website.  If your site is boring or bland, they will never even cross your threshold. Thankfully, modern website themes like MESH allow users to craft professional club pages, and there is no need to hire a web developer.
Even a novice user will be able to setup a fully-functional site. This product is adaptable and responsive, and patrons will be able to access content from any device, regardless of its screen size. Admins will no longer have to be tied to their desk chairs, as updates can be posted from smartphones and tablets.  With MESH, tickets can be purchased directly from the site, and patrons are able to reserve tables. On the main page, a special countdown timer can tick away, building hype for any major upcoming event. It is possible to stream live music online, thanks to an impressive music player feature. You can also include a picture gallery or customer comment section.

Herion is an all-around WordPress theme for the music industry. With the fifteen predefined demos, you can now bring to fruition a website for a nightclub relatively easily. In fact, with Herion, you can make noise online sooner rather than later. Keep in mind, the tool will never ask you for coding knowledge, thanks to WPBakery. It is a drag and drop page builder that helps avoid writing code altogether.
Sticky navigation, mega menu, Slider Revolution, 3rd-party embed support, nine widget areas and social media integration are awesome perks of Herion. Of course, this is still just a small fracture of all the goodies that this powerful theme has available for you. Documentation, friendly support and frequent updates are also part of the deal. You are just short moments away from taking the popularity of your nightclub to a new degree with Herion.

For a strong and lasting first impression, Beatit is the way to go. It is a versatile WordPress theme that you can utilize for all sorts of different objectives. And if you happen to be in the process of crafting a page for a nightclub, you can do that, too, with Beatit. In the nifty bundle, you will find loads of predefined page layouts for home and internal sections. Mix and match the available, introduce your signature style and you can be done already.
Core features of Beatit are players, event list, Instagram, video gallery, page builder and an option to sell products online. Extra perks of Beatit are glitch effect, blog, Google-friendliness and animated icons. For a small investment, you can now manage and maintain your online presence without breaking a single drop of sweat.

Bepop is a music-first WordPress theme that is flexible and editable enough to go entirely against the grain with it. The tool has a solid and impactful dark layout that will knock everyone's socks off. Instead of doing all the work yourself, let Bepop take care of the majority of it. Only focus on the fancy stuff, doing the refining touches to the default appearance of the theme. Of course, the layout of Bepop is entirely mobile-ready and cross-browser compatible.
With Bepop, you will have no problem triggering your visitors' attention and hook them on some new tunes. For a quick and speedy realization of music and nightclub-related website, you now have all the required material at hand. Witness a smooth and comfortable execution of a banging outcome that will do wonders.
Nothing can make those white hairs sprout earlier than organizing an event. As its name suggests, Nightlife is ideal for those that are seeking to advertise their night club and promote certain concerts or gatherings. It is an impressive theme for directory events, allowing you to manage every single aspect of private events, pages and posts. The true advantage of this theme is that it is truly interactive. Not only does the admin have the ability to post, but so does the user as well. In addition, this product if fully responsive, as it can display your site's content on any device, regardless of its screen size. Although there are some exceptions, most of its features are made possible by the Tevolution plugin, which is included in the purchase. Speaking of the purchase, the price is relatively low, especially when you consider the innovative features.
It is often said that people who refuse to have a social media presence do not exist. Thankfully, Nightlife recognizes the need for a social online footprint, and the discomfort caused by sites requiring you to register an account. Here, you can simply register with your Facebook, and use the platform to stream events, or simply bypass the registration.
The home page is very easy to manage, and many items that are displayed there are actually widgets. This gives you a greater degree of freedom, as you can simply click on something and drag it to the preferred location. With the WPML plugin support, you are also able to fully translate your page into multiple languages, allowing you to target a broader audience.
This is a WordPress theme that can breathe life into your content. It is highly responsive and retina ready, constructed for artists, DJs, musicians, and other creatives. Using this product you can create an album that will hold all your hits, a music player that can relay them, and even a playlist for your albums. Of course, most of these features were available before, but Music lets you use them without having to hire a professional team of web developers. The content is streamlined and optimized, and it doesn't require any additional spending whatsoever. Finally, you do not have to be a professional coder in order to get things done.
They have added some video examples of what can be accomplished via the builder tool on the theme's website. Also, a live preview and some screenshots are available. You are given enough information regarding this product, and you will be able to make an informed decision. As is to be expected with quality theme, you can take advantage of the translation feature in order to display your page for international followers, and the WooCommerce plugin that lets you open your own online store.
With 10 module types, and a design that simply refuses to be mediocre, Vice is an astounding WordPress theme for artists. The layout is completely responsive, and it can showcase your artwork on any device, regardless of the size of its screen. Vice is compatible with tablets, smartphones, laptops, desktop computers, and all web browsers. For users who lack web development experience, an informative video tutorial was included. Simply follow its instructions, and you will be able to craft a top-quality site. It is possible to implement entire YouTube videos, as your website background. This can increase any page's visual appeal, resulting in a superior browsing experience for all followers. There is an endless spectrum of color customization options, so feel free to experiment with different palettes.
Vice has more than 120 personalized icons, and an off-canvas menu. This menu can reduce screen clutter, as it will automatically disappear when it is not being used. In addition, you can implement 2 drop-down levels, and secondary logos. If your art is music, you are in luck. This theme has the most advanced WordPress music player on the market, with side-wide playlists, hide/show buttons, volume control, and an invisible mode. As new updates are released, the player will be automatically updated.
Oscillator is an incredibly modern WordPress musical multipurpose theme, a wonderfully constructed theme that has been carefully developed to be an intuitive, thoroughly powerful solution for all sorts of WordPress-based websites dealing in musical and entertainment industries, but especially well suited for deployment upon nightclub websites of all sorts.
That's because Oscillator is not just jam-packed with sophisticated, deeply functional and modern musical features such as Streaming Audio Players for you to broadcast your events right off your website, but a profoundly stylish interface that is extremely polished and highly visually immersive, with extensive, easy to use customization options that will let you fine-tune your Oscillator nightclub website to suit your brand and needs seamlessly and quickly. Oscillator includes time-saving features like a Drag & Drop Homepage Editor that allow for simplified and fast loading, extremely customized websites with expansive widget functionality, to be produced start to finish with absolutely no coding whatsoever. Oscillator is mobile responsive and looks beautiful on all devices, and includes search engine optimization for your nightclub to dominate the search ranks and beautiful Retina-ready graphics out of the box. Ready to oscillate?
Citrus is an excellent Parallax WordPress theme that it is available in a one-page format, and it includes a versatile and intuitive page builder. The creators designed it to fit any purpose and to accommodate any given site. You can set up your own portfolio and blog page, or convert it into an agency, product promotion, photographer, night club, organization, non-profit or music website. Basically, it implies vision and creativity, this theme has you covered. The demo content is very easy to install, and it requires only one click in order to initiate the process.
However, the developers realize the not all of their customers will be tech-savvy webmasters, and they did their best in order to make the content as user-friendly as possible. You will gain access to the most detailed online documentation, in addition to some very informative high definition videos. If you are still experiencing some issues with your installation, you can always contact customer support.
Depending on what your plans are, you might need to open an online store. Thankfully, Citrus includes the Woo-commerce plugin, allowing for the creation of a trustworthy and productive shop. The WPML addition guarantees that your page will be multilingual if you wish it to be so. The page creation process has never been easier, thanks to the Visual Page builder.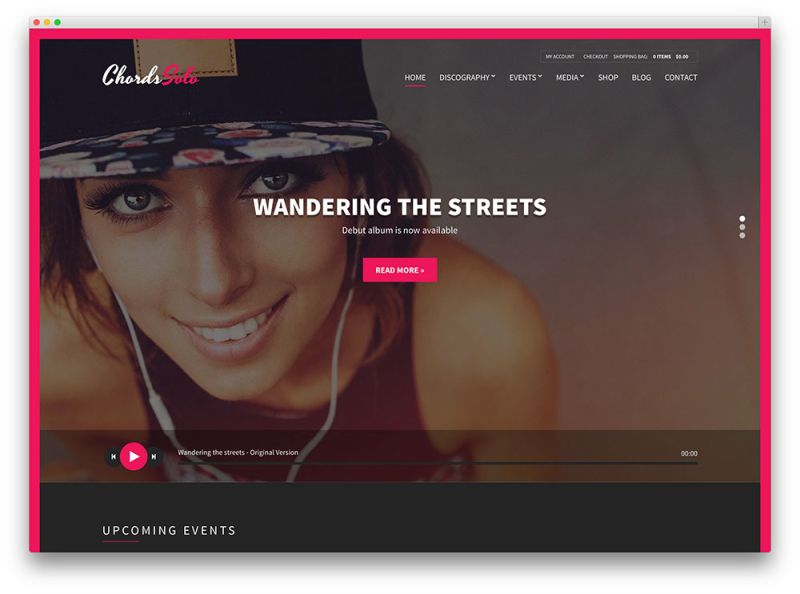 Written reviews are limited by their lack of practical, firsthand experience. Thankfully, Chords is a WordPress theme that includes plenty of screenshots and a live preview. The plugins, features, shortcodes and widgets that this theme includes are enough to make it suitable for any web page, although it is best implemented in an entertainment setting. Be it music sites, band official pages or even agency advertisement portals, Chords can accommodate the specific needs of every situation.
Free updates and support were added, proving that the developers choose to stand behind their product. One of the greatest assets in terms of customization is that most of the elements on the pages are widgets. You have the option to drag and drop them wherever you need them to be. Feel free to experiment with dozens of arrangements, each with its own specific advantages. Be it small ambitious companies or massive conglomerates, the consistent quality of this theme will shine through. There are over 6 different types of posts to choose form.
The programmers have drawn inspiration from the front-end framework, allowing for full responsiveness and retina readiness. The theme incorporates a personalized music player, in addition to full streaming support capabilities. This allows you to showcase your most prolific songs on your home page. The player if powered by the famous SoundManager 2. Thanks to the tracklisting shortcode, customers are able to create an expansive discography, probably the best of its kind.

EmojiNation is a nifty WordPress nightclub theme with a quick one click install feature. Meaning, you can install any of the predefined demos with just one click and put it into play right away. Along with front page demos, EmojiNation also comes with other internal sections for shop, news, events, Google Maps and more. The tool comes integrated with loads of practical features which will get you going seemingly in no time. Especially if you take charge with the out of the box demo, you truly can have a page up and running in minutes.
With the WPBakery page builder, you can further customize header, footer and the base of EmojiNation. Let the customization process not intimidate you as there will be no complicated coding involved. That's that, even as someone without any web development knowledge, you can still create a trendy nightclub page with EmojiNation – today.

With the versatility that Offbeat brings to the table, you can hammer out different styles of websites without facing any challenges. In our case, you can use Offbeat as a WordPress nightclub theme since it even comes with a dedicated demo. However, all the other preset samples, it has in store, can resonate with your business as well. All Offbeat does, it does it with styles and fashion to make sure you and your business get the most out of the online world.
Along with several home designs, Offbeat also contains internal pages, a horde of shortcodes, custom post formats, Slider Revolution and three different headers. You will soon find out that Offbeat provides all the necessary a quite a broad collection of additional features and assets that you can benefit from tremendously.